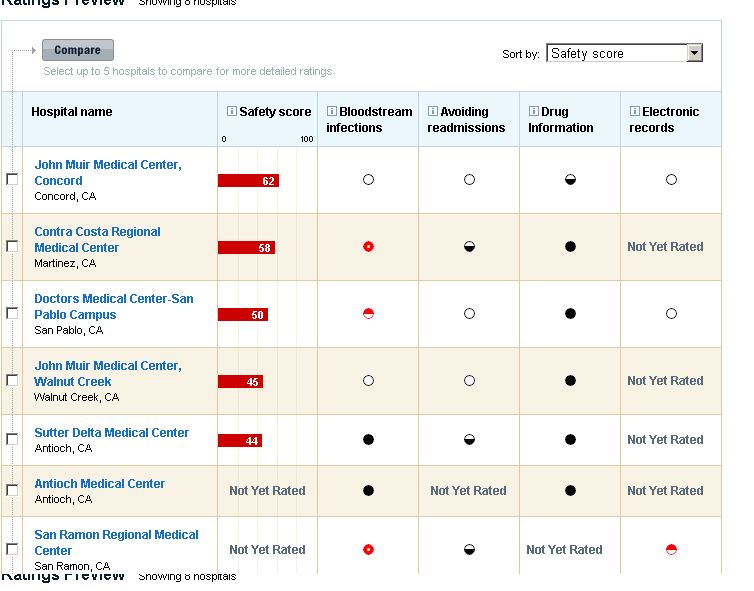 HOSPITAL MAKES A
DIFFERENCE – CHOOSE BEST
HOSPITAL
Many don't consider they may have a choice of hospitals when going for  inpatient or outpatient visits, but one's choice of hospital can make a big difference, sometimes a life altering difference.
As the above chart indicates for a sampling of hospitals in the San Francisco Oakland East Bay Area, there is quite a range, from a high score of  62  at John Muir Concord to a low score of 44 at Sutter Delta medical center in antioch, for this small sampling. (Consomer Reports). There are at least two online safety score guides, ConsumerReports.org (as above) or http://www.hospitalsafetyscore.org/   There are overall scores, as above, or using 'A,B,C ' grading as   with http://www.hospitalsafetyscore.org/ , which are broken down specific categories where one can check the prominence of infections, frequency with which one must return to hospital following initial visit,  costs, etc. For ConsumerReports you may need to sign up with them, though it may be the easier of the two systems to follow.
Surprisingly, some of the hospitals that you thought had great reputations may not be so popular with actual patients, themselves, who have spent time int he hospitals. Witness world reknown UCSF in San Francisco, which manages only a 'B' score (http://www.hospitalsafetyscore.org/) and John Muir Walnut Creek, which manages only a '45' (ConsumerReports.org)
choosing a hospital
We recently had personal experience at the two John Muirs noted above.  We totally agree with the above nuimbers, finding John Muir Concord far superior, all around, as compared to John Muir Walnut Creek, surprisingly, despite the fact that the Walnut Creek has a brand new campus with the latest   surgical tools and procedures.  Of course, a major decision as to choice of hospital deals with the particular medical need, and different hospitals are also rated by medical procedure.
So, next time you or your loved one must go to a hospital you may want to check one or both above reports.
<a target="_blank" href="http://www.amazon.com/gp/search?ie=UTF8&camp=1789&creative=9325&index=books&keywords=hospital&linkCode=ur2&tag=ypc-20″>choosing a hospital</a><img src="http://www.assoc-amazon.com/e/ir?t=ypc-20&l=ur2&o=1″ width="1″ height="1″ border="0″ alt="" style="border:none !important; margin:0px !important;" />
HOSPITAL MAKES A
DIFFERENCE – CHOOSE BEST
HOSPITAL